YEAH, I'M SURE IT WAS JUST A COINCIDENCE...
On the day the
Radnich/Heenan
kerfuffle hit the fan,
Steve Aveson
and
Brittney Shipp
, both Radnich critics, were
GONE from the KRON studio
!
Call it
peculiar at worst
and something
more ominous
brewing at best.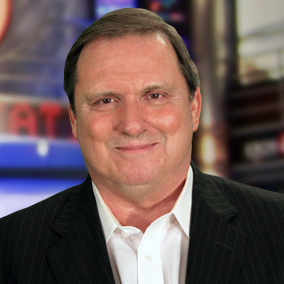 Let's say this: Aveson
can't stand Raddy
and
Shipp is so concerned she told KRON higher-ups she wanted NO PART of his now infamous, on-air barbs
. You'll notice Radnich has
never
involved Shipp in his
Don Rickles act
and in fact hasn't even acknowledged her on air! Very classy Raddy.
Meanwhile, at
900 Front
where KRON is headquartered --the mood was sour Monday and Radnich was mostly subdued himself --that, in itself, is NEWS!
Radnich doesn't talk to many people on a good day and Monday he was damn near invisible tiptoeing around the offices and trying his best to seem normal.
He wasn't.
"
He looked sullen
", said a station source. "
He just did his show and split, but you could tell the whole affair with 'Catherine (Heenan) had taken its toll
."
Radnich doesn't have a lot of friends at KRON and even his most staunchest allies like
Pam Moore
were giving him the silent treatment. Moore, like Heenan, generally likes Gary, but wasn't in the mood for fence-mending on Monday.
In fact, nobody outwardly went on the defense for Radnich who seemed himself, flustered, by the whole affair.
Today, (Tuesday) figures to be quite a day in the back offices: even before
Radnich a la Heenan
hit the national domain, KRON management was dealing with Aveson's beef and
HE JUST STARTED
! Aveson told a station veteran: "
Who is this guy and why is he fucking with me?"
Great question, Steve.
You're not the only one.
Count the number of torso KRONvicts that have left the building in the last two years alone.
SOMETHING TO WATCH
: Radnich and the GM,
Ashley Gold-Messina
don't talk that much; Raddy's management ally is ND, Aaron Pero, but Pero is being watched by Media General (KRON owners) for his running of the station. If Pero were to magically be axed, then Raddy's days would be numbered ---even without the Heenan affair.
By the way, Heenan hasn't said a word and is said to be quite ticked over the whole shebang. Too bad too, 'cause Heenan is one of the most well-liked and respected people in the building.
*Follow me on
Twitter