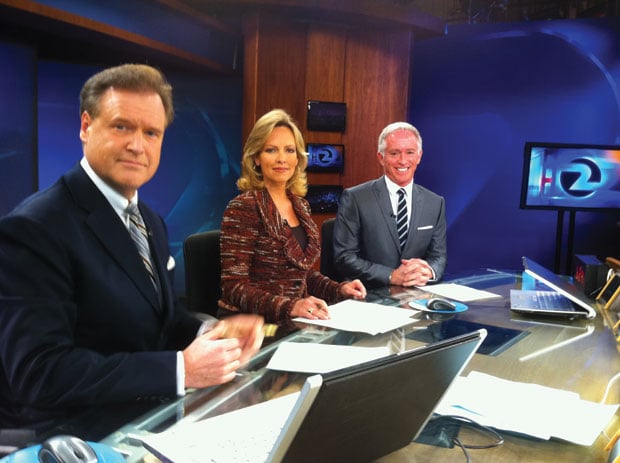 KTVU
should have a contract extension drafted immediately, with a moderate raise, for its multi-decade veteran sports anchor,
Mark Ibanez.
Ibanez is more than just the best reader of sports news on the local screen, he's become one of the faces of the station, just like
Frank Somerville
and
Julie Haener
.
When
Wayne Walker
joined
KPIX
in the 70's he had a great run and eventually shared a popular status alongside
Dave McElhatton
and
Wendy Tokuda
.
Joel Bartlett
too.
Gary Radnich
, although he has slackened off, continues to be the face of
KRON
even if his star power has been marginalized and image diminished. Nevertheless, he still garners significant relevance and his radio show on
KNBR
still moves the needle. I'm critical but facts are facts.
Ibanez is the best sports copy writer in the market. He works hard and still attends most of the games. He is beloved by most people, including both women and men. He's also a nice guy both on and off the screen, a Bay Area native (Marin) to boot and has earned the respect of his peers. 40 years at one station is a long time let alone the rough and tumble, doggie-dog world of local TV News. Ibanez began at KTVU in 1979 and worked under
Gary Park
, his mentor.
KTVU management, under the
Fox iteration
, has altered its brand and tweaked its newscast style; not all positive in my opinion, but it is still king of the hill, top of the list with a roster full of quality anchors. Not like the old days of course but still significant. Part of that is its relatively stable core of men and women on the anchor desk. The "
10 O'clock News
" is still the #1-rated newscast in the Bay Area.
Ibanez is a part of that vaunted franchise and deserves another three or four years to wind up his career. If I'm KTVU I'd have this transaction done --it's not only good community relations, it's good business.
*This might be worth munching on: wanna know the real reason
Jessica Aguirre
left
KGO
years ago? Think about a certain sports guy who also does news. Oh my!
*Still, a classy, smart, cool woman who lights up the screen every time she's on:
Allie Rasmus
. Yes, I'm a fan.
*The
Branson, Missouri bozos
in the morning on
KGO Radio
were cackling again with their fake laughter --but this Friday morning's schlock became even more schlockier --the gruesome twosome known as "
Armstrong and Getty
" played audio cuts, one of which at the end was of the grieving father who lost his daughter in the Florida high school massacre. That didn't stop the idiots from their embarrassing laugh orgy.
Side note: KGO would love to rid these clowns but they have a contract.
*Bizarre interview on
KCBS
this morn:
Stan Bunger
and
Holly Quan
had an interview with some professor in England. The topic was conspiracies and centered on such horrible tragedies like the
Sandy Hook
massacre and
Florida HS
(there's more of course but these were highlighted) Quan asked the guy why such crazy conspiracies (that Sandy Hook never happened) exist. The guy mumbled off something and then said with emphasis: "w
e have video, we have eyewitness accounts
" as if to counteract the wackos who still say neither mass shootings took place.
My reaction
: why would Bunger or KCBS even have this guy on at all? It only gives the nuts who believe this carp more ammunition (no pun intended) to spread their evil, crazy ideas. I can't believe KCBS let this make their air. I'm outraged. I could only imagine if I had lost a loved one and heard about these crackpots who spread vile, fake conspiracies.
*Hands down the best weatherman in the market: PIX's solid, accurate, straight to the point,
Paul Deannu
--knows his stuff and doesn't make himself look like a clown and foment faux importance.
*A 1-A to
KGO's Sandhya Patel
; also, hard worker, tremendous screen presence and accurate too. Doesn't mug nor make silly comments; I adore Sandhya.
*Hey
KRON
: for the 11,656th time get someone off their ass and
FIX!
your awful sound in the studio! It's horrible and distracting and sounds like an echo machine, crappy audio even by your lame standards. God, what a catastrophe. You would think this would make for mandatory "
do it
" status but not at the local albatross furniture-selling station. Worse, it wrecks
Pam Moore
and
Cathy Heenan
.
*Yeah, of course
Dennis Richmond
wasn't entirely beloved at KTVU. He was often moody, arrogant and several times disrespected staffers, some of whom worked right next to him. Even in his prime, Richmond seemed to have a chip on his shoulder too, particularly to the little people behind the scenes. But the guy had a 40-plus career there and was one of the Bay Area's great anchors. Longevity counts for something.
READERS
:
YES, I work hard and spend time and energy on this site to produce, write, and exhibit labor to provide you a forum to read and enjoy some fairly good content that you'll NEVER get anywhere else.
I do it because you told me you love my stuff; at least some of you. Well, a lot of you. We keep growing, but I need your contributions and donations to keep ME going so I can continue to entertain you.
PLEASE, if you like 415 MEDIA and want to read it every day, then I ask you to DONATE NOW. It's fast, cheap and easy.
ONE YEAR: $25
TWO YEARS: $30
SIMPLY, go to the PAY PAL ICON on the right side of the blog --click on the "DONATE" button and follow the directions. Again, it's simple, fast and easy. You will get an e-mail from you thanking you for your donation. You do not have to have a PAY PAL account to contribute and every transaction is 100% safe and secure and confidential.