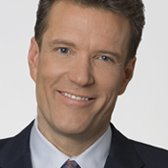 YES, he's still on the air
but as reported here last month, Steve Aveson is still out at KRON
; his contract was not renewed --it's a timing thing; he's leaving the station in April.
Could be for a variety of reasons; KRON hasn't found a replacement and is paying Aveson scale to stick around or...Aveson might have negotiated a few extra months to pack up and have some leftover cash for his next gig wherever that may be.
So for those of you who either asked why he's still on the air or those on the opposite end who love him, figure it's
Steve Aveson Bonus Time
!