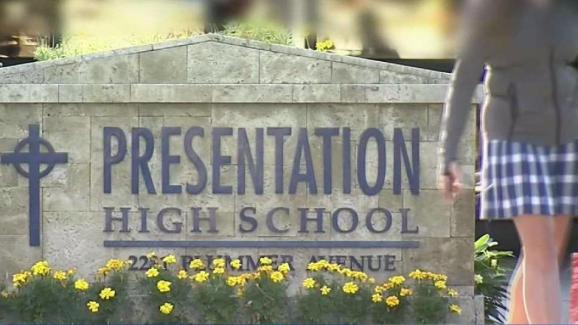 SO HERE'S THE STORY
that the Bay Area mainstream media won't pick up and you certainly won't see on
KNTV
(
NBC Bay Area
), whose biased reporting has led to hate-filled misogynistic and racist rants and threats against the administration at
Presentation High School
in
San Jose
.
We've touched on this issue before
but now there's other developments.
The group, "
Make Pres Safe
," and its attorney have refused to meet with PHS to discuss their claims, many of which are dubious at best--there are no records either verbal or written that the claims were ever made to the school. In fact, they haven't even filed a lawsuit over the allegations from 30 years ago. Instead, they make up stories and post them on online without any proof.
The only place the allegations and claims are made is on the
webpage
of "Make Press Safe" and their social media accounts. The school says many of the claims were never reported to the school in the first place, raising questions of their authenticity.
Yet, both
NBC Bay Area
and the
San Jose Merc
have taken the "Make Pres Safe" claims hook, line and sinker. from the alumni group without ever questioning if the allegations were ever reported in the first place. Talk about lazy journalism.
The misleading and never-heard-of-before claims made by "Make Pres Safe" have led some of its supporters to call the school and leave
hate filled, racist messages against the principal and school leaders.
So, here is the result of false and misleading social media posts that wind up in the mainstream media as "news." Cover your ears and turn down the volume as you listen to the most awful rant from a "Make Pres Safe" supporter against
Mary Miller
, the principal of Presentation High School.
(
AUDIO
: Caution:
contains graphic language and may be disturbing to some)
*415 MEDIA EXCUSIVE