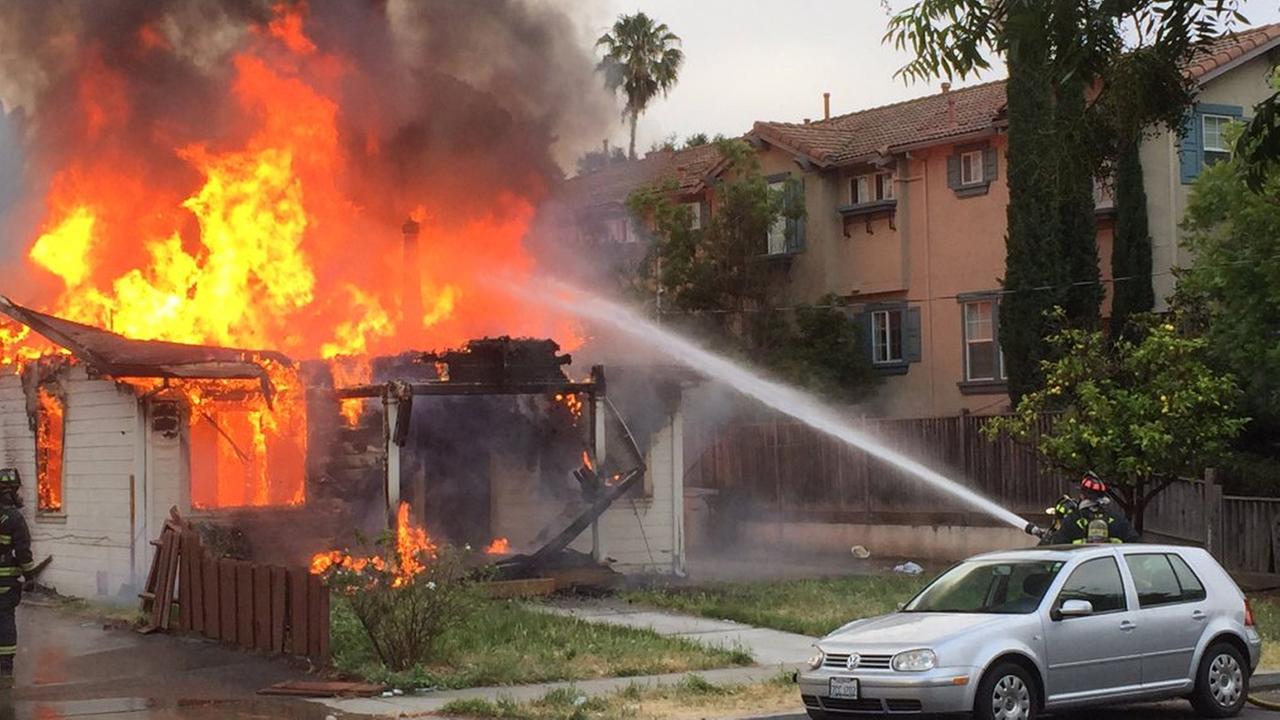 JUST WHEN YOU'VE SEEN IT ALL, YOU SEE THIS...KRON's ABYSMAL, COMICAL COVERAGE OF FREMONT POLICE STANDOFF
The amazing
KRON 4
--a collection of bozo brains masqueraded as a TV News operation.
The major story of the night and today (Thursday) is the apparent conclusion of the
suspect who shot 2 Fremont cops, escaped and barricaded himself into a nearby house. The shooter is now dead
.
Hours after the initial incident, all the major TV stations sent reporters, obviously, to the scene, including KRON. Every few minutes or so we heard that the situation was
"fluid
." Indeed it was, with police and county cops unaware of the shooter's whereabouts --that's when things started getting stupid at 10 PM.
I switched to KRON and wanted to see their new 10 PM Newscast cover its first major news story. After a fine opening with live coverage with
Grant Lodes
from the top of the show (with direct reports from the scene in Fremont )...Then things went from the sublime to the ridiculous ...KRON inexplicably went away from the scene to, get this, a weather report from
Brittney Shipp
who appeared as confused as she was giddy ---Shippwent on to do her report and plugged, amazingly, "my next 7-day complete forecast." We have a suspect armed that has shot at 2 cops and KRON is plugging weather reports??! but, there's more!
KRON immediately and correctly went back to the scene in Fremont which still saw literally hundreds of law enforcement officials searching door-to-door for the suspect; a city and neighborhood locked down; frightened citizens unable to get to their houses and those that were in their house ordered by police to stay indoors and "
shelter in place
." It's, yes, damn fluid and ongoing, but don't tell KRON that.
KRON went away from the story ...for, YES, ANOTHER ...WEATHER REPORT ---by that all-engrossing, Brittney Ship, who proceeded to waste another 4 minutes with ANOTHER USELESS REPETITIOUS ...WEATHER REPORT. Who made this call? Better yet, what MORON would go away from an ON-GOING VITAL, 'FLUID" story involving LIVE pictures and images of a community under siege ...to go in-studio for WEATHER REPORTS!!? Talk about idiocy to the 10th degree.
Common sense is never a virtue at the so-called "
News Center
" --KRON4, an albatross station with a DUMB ND, mostly inane assignment desk people and news editors who obviously don't know when to think on their feet and possess a quarter brain if that.
To make matters even further WORSER --KRON had the chutzpah to endlessly
plug their "KRON4 Mobile App" so "that when big news, 'breaking news' like this happen, you can get all the information here, at KRON4"
Tacky? Hey, remember its KRON.
This (Thursday) we got even more weather reports and the added bonus of watching Her Highness BozoBrain, aka,
Darya Folsom
, with her breathless, idiotic, moronic and confusing as hell descriptions of the scene.
THIS JUST IN
: Darya is a fool. Darya gets dumb and dumber.
Seems Darya was just damn mad as hell and irritated that
"these poor folks outside aren't being allowed back into their home
s!" Darya apparently
has never been involved in a police standoff
because
she acted like a total nincompoop
---that, I'm not so shocked at.
KRON is not ready for primetime --KRON is more geared to weather reports and mojo-cams. They are not fit to cover a live, legitimate breaking news incident. Maybe, just maybe, they can cover a Ringling Brothers Circus --anything? SOL.
What a waste.