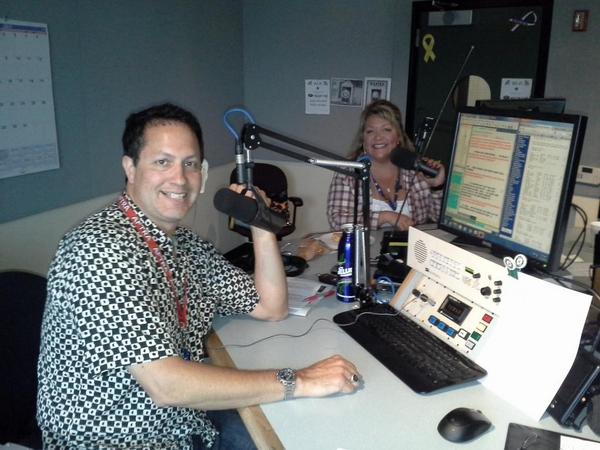 Jon Bristow (foreground) and ex-KGO anchor Jennifer Jones-Lee
FROM A KCBS SOURCE:
"HE'S JACK SWANSON'S GUY--EVERYBODY KNOWS IT
!" The "
he
" is ex-KGO tonsil, Jon Bristow, seemingly on the KCBS air every second, minute and hour.
Bristow was anchoring Sunday morning and Mark Richards was doing traffic--a segment involved reporter, Scott Lettieri. For a moment I thought I was listening to KGO circa 2011.
Seems, with the new traffic and sports voices, all of KGO's staff has kidnapped KCBS.
Bristow, Jenna Lee, Jennifer Hodges, Lettieri, Jeannie Lynch, Kevin "
The Rat
", --all Jack Swanson people and while there's nothing wrong with hiring your ex-staffers it's also frustrating for quality broadcast journalists that didn't work at KGO to be ignored by the new sheriff in town.
*I've stated my opinion on Bristow many times here; he's a qualified anchor but he's got a huge ego that smacks of arrogance and an attitude that has already pissed off a bunch of senior KCBS staffers...a looming battle of egos galore: Bristow and Stan Bunger. Bunger just got a modest contract extension (around three years) and when he retires and/or is bought out, Bristow is the odds-on favorite to replace Bunger...but the two have already clashed in and around the back offices with Bunger telling Bristow to back off a bit (the duo was spotted having a heated conversation one recent morning; they'll deny it but it was confirmed by two station sources); clearly, there's growing animosity over Bristow's growing influence and it has caused tension in the newsroom.
*Back in the saddle: former KRON traffic and weather guy, George Rask was doing traffic reports on Saturday afternoon on KCBS and sounding as robust as ever...so too, ex-Comcast sports anchor, Henry Wofford.
*Most powerful person at KCBS not names Swanson: Doug Harville.
*Most powerful reporter: Doug Sovern.
*Most annoying reporter: Jeffrey Schaub, who thinks he's the next Les Moonves. Fat chance.
*Getting gushier by the day: Roberta Gonzales.
*Don't mess with him or face the consequences: Da Lin.
*Biggest embarrassment at CBS-SF: The Foodie Chap. "trade-outs" from hell.
*Potential fisticuffs: Sovern versus Bunger.
*It's WAR! Susan Leigh Taylor versus Holly Quan. A BATTLE ROYALE!