THERE IS CHAOS AT BAY AREA MEDIA OUTLETS
; TV, the primary player; the guys in the captain's seat will tell you everything is warm and fuzzy; the truth is a combination of inept direction (or lack thereof) and questionable personnel moves has created mass disillusionment at some once-serene outposts.
KGO-TV
: the
Mike Shumann
firing is the latest setback to hit the
ABC
station in town with a number of newsroom veteran staffers; production people; editors; producers; even a few anchor people annoyed and angered at the
Warriors'
organization and players who wanted Shumann's head after the sports anchor was seen taking a jacket from a team security employee; the staffers (from
Circle7
sources) don't condone Shumann's action but were angered that the 20plus-year veteran wasn't given the benefit of the doubt and was hastily shown the door.
The Shumann affair is but many issues that confront the KGO newsroom at
900 Front
. There's still ongoing friction between ND, Tracey Watkowski-Silva and a staff still loathing her confrontational tactics. The new GM is respected but is just finding his way around the newsroom. Many longtime employees can't wait for retirement. Senior anchors like
Eric Thomas
are longing for a buyout proposal from management. There's a rumor that
Carolyn Tyler
will split in a couple months and vacate the premises.
Dan Ashley
has an upcoming contract renewal that most industry people say will happen because KGO needs Ashley to stick around and hold the place together. Here's a tip to the new GM: start the negotiations immediately.
*
KTVU
: Oh, how the mighty have fallen.
The
Fox O and O
has heady numbers; Sweeps were particular decent this early May but the morale couldn't be any more bad than it is at
Jack London Square
. The mood is dire and dreadful. People that should be happy hate coming to work. Anchors are splitting in droves; case in point,
Ken Wayne
. Wayne's exit was accelerated by his working without a contract for over a month; an action that Fox indicated he would not be missed and they would not pay him the 300Grand he was making in his old deal. Wayne was so desperate to leave he took a gig at KRON. Wayne's departure won't be the last. A number of anchors have contracts that are up soon. KTVU has reporter issues too. There also seems to be upheaval over the 54 cameras in and around the station. Plus, a prominent anchor's alleged infidelity has caused uneasiness and fostered gossip in the break room.
The Firm
is beset with drama.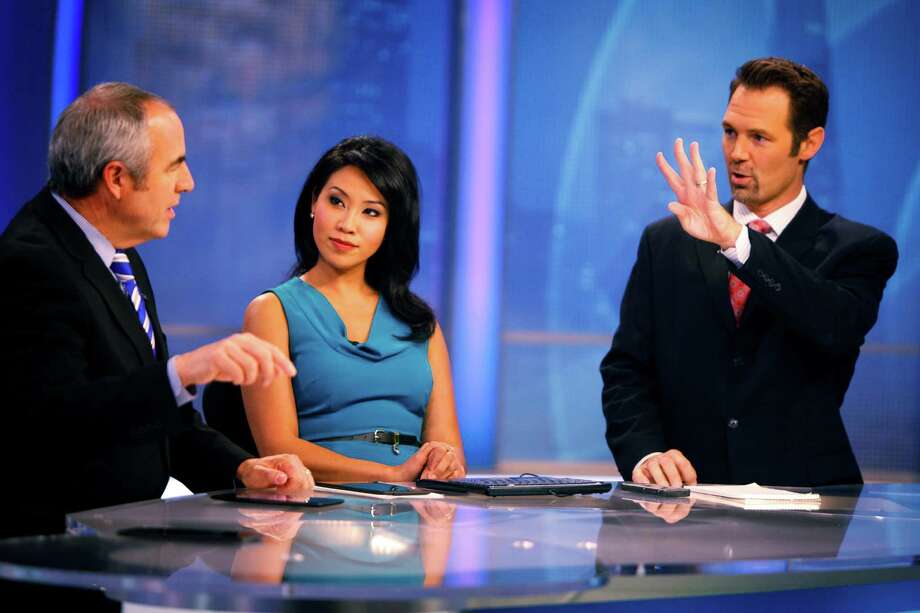 Ken Bastida (left) Veronica De La Cruz and Paul Deanno
KPIX
: Anchor roulette, a new reporter seemingly every day; what's going on at
855 Battery
? Chaos. A controlled chaos because they still make money for CBS but
PIX
has issues galore. A Morning Show that has
ZERO
direction. An anchor diva,
Michelle Griego
, who seems to want to become the femme fatale and stab everyone in the back. She has the backing of management, for now, but her rule of force has made the morning crew weary of her behavior. Griego seems intent on becoming the defacto Mistress of the AM; "
stay away and get off my set
!" has become her ruling mantra.
In the evening, it's no better. Constant anchor tinkering. Nobody is set. And now a rumor that
Ken Bastida
is all but gone come the end of the year. Bastida used to be the face of the station but his glamor boy image has been sullied and he's ripe for leaving. Plus,
CBS
isn't inclined to pay an ageing veteran over $500K a year to poorly ad-lib. One has to wonder: how does ND,
Dan Rosenheim
keep his gig? I've been wondering that for years. I'll say this for Rosenheim: his
Guinness
taste I'll second. We agree on something. Cheers for that,
Dano
.
KRON
: You might think Wayne's arrival (he starts tonight) would put some life into hopeless KRON and you'd be wrong...because KRON still has lousy sound; still has horrible mismanagement and is still ruled by a ruthless dictator,
Aaron Pero
. Until Pero leaves, KRON has ho hope. They still look like shit; still have amateurish product display; still have massive personnel issues;
MORE CHAOS
. Wayne took the KRON gig because he wanted to remain in the Bay Area and was willing to take a 50% pay cut. He was making $300G at KTVU--he's getting about $150G at KRON. So he may have to put off that plan on buying a small airplane on sale at Costco.
KNTV
(
NBC Bay Area
) Generally speaking, no chaos here but the honeymoon period is over for the ND diva who has a penchant for high heels and
Giants
' games. Her reign of maintaining control over the
San Jose NBC O and O
seems to be keeping the status quo.
Raj Mathai
is cool, calm and collected.
Jess Aguirre
is freaking out because she's got a short term lease; I would say
KEEP JESS
and put a kaboom on
Janelle Wang
; she suddenly scares me.
I have reasons why coming soon to readers near and distant.