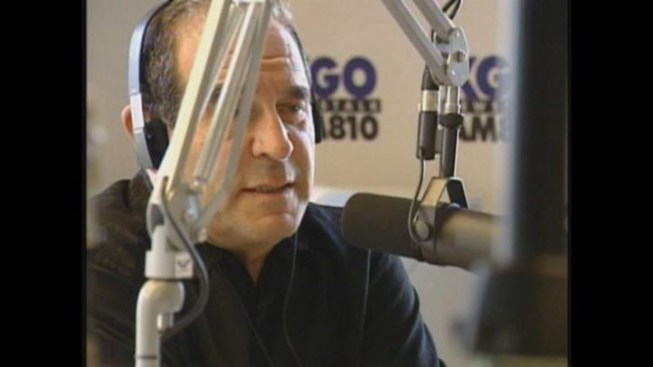 IN THE SUMMER OF 1976
...my family went on a day trip to
Santa
Rosa
--the
Oakland Raiders
were inviting their fans to "
Family Day
" at training camp and
KGO Radio
was the sponsor. At the time, little known
Ronn Owens
, who had started his stint at KGO in November of the previous year, was the emcee. It was a big day for me because as a 13 year-old bright-eyed kid from
Oakland
, I very badly wanted to meet Ronn. I dressed in my jeans and "
Rock Rich
" t-shirt and finally met my idol. He was cool, nice, funny and a gentleman. I'll never forget that day.
As Ronn became entrenched in the Bay Area radio scene, I got to know him well. He took me into his life. I was friends with him when he met his future wife,
Jan Black
. He had me on the radio at KGO as "
Rock Rich
" when he did his popular "
Rock Trivia
" on Friday night. I had an open invitation to visit and "
kibbitz
", schmooze, if you will, with Ronn at the old KGO studios on
Golden Gate Avenue
and later on, the Embarcadero. Ronn invited me to his apartment in Cow Hollow and we frequently ate lunch on Union Street. We went to
Giants
and
A's
games. I was smitten.
I loved Ronn like a father that I never had; he was gracious with his time and made me a part of his life. I often marveled at his innate ability to be a great radio talk-show host and put KGO on the map as a destination cultural force it became. KGO was
more
than a radio station and Ronn was more than just a mere host. Both were larger then life. That's what made KGO such a huge institution --a major Bay Area tour de force.
Today, I lament the fact that I have lost a friend, Ronn , and KGO too. I'm often asked why my hatred for Ronn--was it personal, was there some sort of incident or fallout. Why the vendetta? I'll try to answer.
I'm saddened by Ronn's demise. I long and yearn for the "
old Ronn
", my buddy, my radio heart and soul. I regret getting too personal but all of it is based on frustration and anger. Anger and resentment on what I consider Ronn's sellout and actions immediately after the initial KGO massacre back in December of 2011. Ronn went on the air the day after the whole shebang and was very short and passive about what had taken place the night before. I RESENTED it. I was angry and upset and embarrassed for Ronn because I thought he could have done a whole lot better. Not just for himself but his fallen colleagues and friends. I was royally pissed. Mind you it wasn't me that was given the heave-ho but all the talk show hosts; people like the late
Gene Burns
;
Ray Taliaferro
;
John Rothmann
;
Bill Wattenburg
; all the people that made KGO the special place. Radio station? Oh good god, bigger than that.
So today, I harken back to the good old days. When KGO was the place to go to when an earthquake hit the Bay Area; a town hall on the radio where people could talk, schmooze, commiserate, or like Ronn would say, "
vent
" and open up. God know we needed it so badly on 9/11 and during the particularly dreary days of
Jonestown
and the
Moscone-Milk
Murders. KGO, you helped get all of us through those dark and murky days. On the night of December 10, 1980, I was driving home from the
Stevie Wonder concert
in Oakland listening to, yeah, KGO and
Russ Coughlin
talk about
John Lennon
who was murdered just hours earlier at his home in
New York
. Thank God, again, for KGO.
I miss the old Ronn and old KGO. I miss
Dunbar
and
Wygant
cracking jokes during the
Morning News
. I miss
Bill Wattenburg
telling a Cal graduate "
to get off your ass and quit smoking dope
" rant. I miss
Dr. Dean Edell
and
Ed Baxter
and
Rosie Allen
. Man, we all had it so good until we didn't have it.
Damn.
*
PLEASE DONATE TO 415 MEDIA: Please, we're in dire straits. Help keep the Bay Area's only 24/7 Independent/reader-supported media blog fully sustainable by DONATING to this site...Click on the Pay Pal icon on the right side of the blog and DONATE NOW. All transactions are confidential and you do not have to have a Pay Pal Account to Contribute. Plus, I will personally call and/or e-mail you thanking you for your contribution.