Juliette Goodrich
On
KPIX
I watched a smooth newscast over the weekend with anchors
Juliette Goodrich
and
Brian Hackney
. It was nothing outrageous and star-heavy --it was a compact, precise and mostly nifty half-hour of news and information with heavy emphasis on
compact
.
Goodrich was her usual steady self with reasonable calm and presence --she works well with multi-faceted Hackney, (he did the weather too) who is making me reevaluate him as he's acting less holier-than-thou and more candid and simple. That's cool.

Brian Hackney
This is
KPIX's best news combo
; it's ironic that this duo is featured on the weekend and not on the weekday evening news, say the 5 PM, but PIX still thinks highly for
Allen Martin
, I don't have a clue as to why.

Ken Wayne and Julie Haener
Meanwhile, over at paranoia-central,
KTVU
,
Julie Haener
was once again working the weekend 5 and 10 with old-reliable,
Ken Wayne
. This too was a quality newscast with less theatrics and more substance --something, ironically, KTVU
minus
Fox
, was acclaimed for; Haener and Wayne provided a welcome respite from the phony and mostly disingenuous talk-back to reporters doing a live shot. If it's legit news and there's ample reason to ask some questions, fine, make my day, but when it's just "
asking questions
" for the sake of supporting format, you lose me.
*
Eric Thomas
is one of my favorite news anchors;
KGO
is lucky to have this intelligent, no-nonsense news journalist deliver the day's developments. Thomas, who is finally able to work without the breathless and silly Kristen Zse, is straight-forward gusto and informative. He doesn't need any sidekick nitwit to make for false theatre; he simply reads the news and lends himself secondary to the story, again, a welcome respite from the usual cackling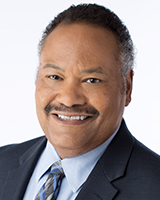 Eric Thomas