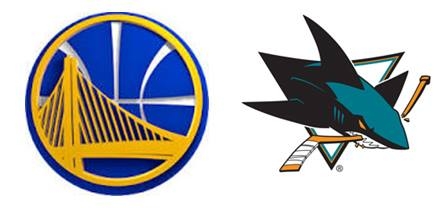 SO, WHAT WILL YOU BE WATCHING
?
The
Warriors
or the
Sharks
? It shouldn't have to be one or the other; in fact, most of you will be switching back and forth; even those of you, like me, that only, if at all, dare admit that you watch
hockey,
even
playoff
hockey, but I digress...
This is an historic evening
. The BBQ has been put on hold; the mad rush to watch a
KRON sports personality make his fellow anchors look like mush
is delayed; you have
must-see sports viewing of historic proportions
commencing from about 5 PM up until around 9, a basketball-hockey orgasm punctuated with epic story lines; can the Warriors
survive a Game 7 with OKC's vaunted double superstar tandem
; how do the Sharks look on the
Stanley Cup opener
at Penguin control center in
Pittsburgh
? A BBQ? Screw that! We have a lot on the menu.
It didn't have to be this chaotic for your watch party on Memorial Day night. For example, the brain-dead buttheads who run the
NHL
and are desperate for ratings must have been high on dope for scheduling
Stanley Cup Game 1 on a night when they knew a Game 7 NBA encounter was possible
, what goofballs!
Who's responsible?
This schmuck
.
I mean, any amateur yahoo could have stood up at the NHL TV meeting and said, "
sir/madam, I do believe we can stagger Game 1 on Sunday Night and 2 on Tuesday or Wednesday so as not to compete with the NBA, right
?" Of course that would haven been too logical.
This is not going to wreck your day or evening. Some of you will carry on and do laundry. Your kids and family are more important. The babysitter has been paid and you're already dreading Tuesday and back at the office. Life moves on...
Then there's the rest of you like me that have no life and are counting down the time between 5 and 6 when teal and black and gold and blue are more vital than good chopped liver. I get it.
Just be careful and enjoy. It's still just a game. It will have no bearing on your regular ways and means; you'll still have to be fresh for tomorrow --remember, the boss doesn't give a damn, he's so gosh darn cranky!
Take care and eat well.
Oh, and follow me on
Twitter
.
*SUBSCRIBE TO 415 MEDIA
For $25 a year you'll get
415 MEDIA
delivered exclusively right to your e-mail inbox; every day. You'll get
Insider Exclusives
and the Bay Area news and gossip you expect and enjoy plus you'll make sure 415 Media is 100% sustainable.
SUBSCRIBE/DONATE
NOW.
Donate today; help 415 Media --
Click on the
pay pal icon
on the right to
SUBSCRIBE
.