IF YOU HAVE $50 Million
--give or take a few mill, you can probably buy
KSFO
.
*
Dennis Richmond
is long retired from
KTVU
--May, 2008, to be exact. But, word on the street is Richmond has told friends even he is
disgusted
at the new, "
Fox2
" version of Channel 2 News.
Not that Richmond's opinion counts anymore because I don't think Dennis
could talk like a pirate
.
*"
Forum
" on
KQED
is the most boring, insipid, pretentious and patronizing program on local radio. OK? You wanted a reason, you got it. Plus, its host is a raving jerk who goes after fill-ins --just ask some past producers and hostesses.
*If
John Lund
were to cease acting like a potty-mouthed, teenage jerk off the juvenile hall list, he would be a decent host on sports-talk radio. Listening to Lund talk about sports when he's not doing stupid, ill-conceived amateur chatter is frustrating because jerko Lund knows sports. Maybe
The Game
is desperate for attention.
*Even I love old rap and
Q-102 FM (102.1)
is required listening when you get stuck on 101.
*Some company is supposedly offering
KRON
vast millions for its
digital
fortress --good, take the money and buy out
Radnich
's ego and
Darya
's doughnuts.
*
Larry Beil
and
Ama Daetz
on
KOFY-TV20's
9 PM newscast October 20, 2015--mark it down as quite possibly the best news broadcast of the year. Crisp, insightful, good pacing, and a little bit of humor.
TRENDING
! It was a delight to watch and it didn't insult the viewer. What a concept.
*I've been meaning to say this a long time ago but my affair with
Pia Zadora
prevented me from doing so: KGO's
Sandhya Patel
is terrific at forecasting weather and has a remarkable sense of humor, knows her stuff too. Hey, ABC7, pay her.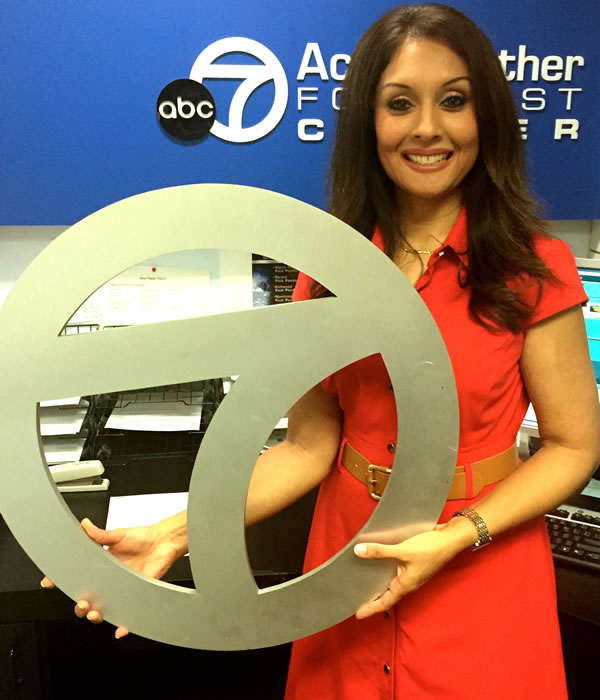 *Sandhya, I love the tuna melt at
Grumpy'
s. (I'll buy the first round of diet Pepsi)
*
KGO Radio
staffers have been flooding the
KCBS
offices with resumes. Shocking.
Hint:
Swanson
likes red wine.
*The KRON third-tier, female reporter with a slight accent was seen with the married, KGO male reporter at Old Ship. Hope you had a good time--wish you could have paid my tab.
*
Brian Murphy
: UCLA, dude!, pop-culture references fetish, fake dialogue with the fake co-host with the fake Jersey accent who claims he knows
Bruce Springsteen
, what a wonderful life: "
Yeah, yeah, yeah
!"
*
Chip Franklin
: KGO's designated audio whore --pillows, financial ads, restaurants, groupies--might as well do a :30 for the
Bunny Ranch
.
*It's been about 2 minutes since
Ben Fong-Torres
did a thousand word essay on the
Bay Area Radio Hall of Fame
. No knock on the HOF but seriously, BFT, could you stop with the press releases and write something of substance --maybe an expose on KQED excesses?
*OK, I should be more diplomatic:
Tim Kawakami
is an asshole.
*
Ray Ratto
: Not a blip about
Rusty Simmons
? Internal stuff is a bitch, right Ray.
*
49ers
fans aren't the only people in depression over
Jim Harbaugh's
86 from the Bay Area:
CSNBA
's
Dave Feldman
is still shitting in his pants.
*Press releases and the
Chronicle
: winning combo.
*Welcome back,
Julie Haener
.
*
Mark Ibanez
,
Joe Fonzi
and
Scott Reiss
: KTVU's
Osmond Brothers'
--the only thing missing is a rendition of "
Go Away Little Girl
." No, not the blond, female intern. Heavens no.
*
Dana Hahn
: slowly becoming the female
Wonder Boy
known as
Rosenthal
--might want to tone down the rah-rah press releases. Or was it a directive from Kelly?
Sum-Ting-Wong
.
*
Fox
treating reporters and staffers like shit? The next thing you know they'll be low-balling reporters out of work. Wait a minute...
*Yo, Kelly, GM? I have the whole story from Boston. No need to return calls and e-mails. Quite gruesome, actually.
*
Mark Matthews
, the political hack at
NBC Bay Area
:
Kevin Keeshan
on the Christmas gift list, I hope. Remember, it's 30 Rock, NY, NY.
*Separated at Birth:
Heather Holmes
and
Sondra Locke
.
*Follow me on
Twitter