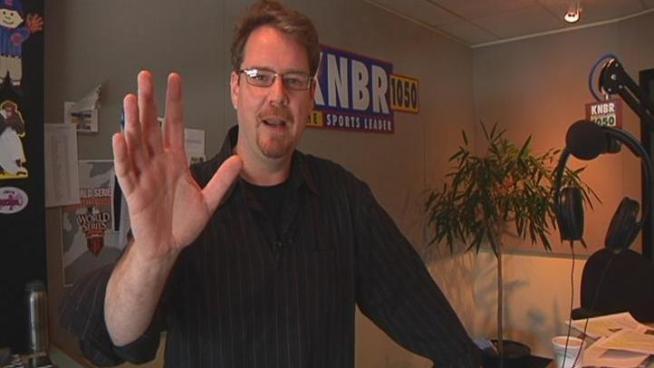 Forget about the reasons why or why not
KNBR
's
Damon Bruce
may be fired in the wake of
his now notorious rant about women and sports
. It really doesn't matter.
THIS
does matter:
advertisers
. So far, no advertiser has left the Knibber cluster nor Bruce's show although I'm told there's been whispers from a few who are concerned about the fallout which
has reached a national critical storm
. And for good reason. Even for a radio station that has traditionally catered to a mostly male crowd and shuttered the female audience. Then again, it's not good business to alienate a growing legion of women fans who, like their male counterparts, do the tailgating and are avid NFL fans. Even the league has embraced the female demo and has a high-profile campaign dealing with breast-cancer awareness. The NBA and MLB have also targeted women with their own charitable campaigns. More women than ever have entered the sports arena and are a prominent advertising group.
It is that women demo that Bruce may have alienated the most and probably is kicking himself to have gone off on that bizarre tirade just a few days ago.
*I have had my moments with Bruce; I don't think this incident; however egregious and frankly, stupid and embarrassing to both Bruce and KNBR, warrants him losing his job--a two-week suspension without pay would be suitable, but again, the way of the world this day might dictate otherwise. If some advertisers split and there's a heavy backlash from the ladies, (and it's been considerable), then Bruce is gone.
*
Ted Ramey
will fill in today and Tuesday on Bruce's show from Noon-3 PM. Bruce, for now,
has been suspended indefinitely, as reported here, first
.
*Tone-deaf society: KNBR and Opps Mgr,
Lee Hammer
, haven't helped matters with their complete silence on the Bruce tirade. Not a word. Not a peep even. That's not in the handbook of good damage control. I'd expect we will get a statement sometime later Monday.
*Check back here periodically throughout the day as I do believe we might have some news filtering out of the
Cumulus SF cluster
on the Bruce matter.
*Follow me on
Twitter
*Subscribe to "
415 Media Extra
" --Get all the inside dope on Bay Area and San Jose media by subscribing to a more extensive blog and inside information ...all, for only $10 a year. Go to the
PayPal
icon in the right of the blog to subscribe.