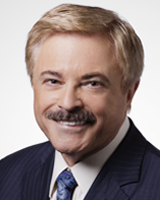 As
reported here first
, (although slightly ahead of schedule), veteran anchor/reporter,
Don Sanchez
, is retiring after more than four decades at
KGO-TV
. Sanchez' last day is Friday.
Just got an e-mail from the longtime Bay Area TV vet:
My last day on the air is tomorrow after 40 years, 3 months continuously on one bay area TV station. It has been quite a ride and I recall you were part of it a number of years ago.I have several things I want to do, but nothing concrete yet. Just a little 'r and r' to start.
Sanchez was a part of the legendary time at KGO in the 1970's and 80's when KGO's newscasts were the dominant #1 program in the market. He did just about everything: sports, news, entertainment and multi-faceted features. Truly one of a kind.
I used to kid Sanchez from time to time about his eternal youthful look. During one phone call years ago, I asked him, "hey
'Dick Clark
, is it you?"
*Follow me on
Twitter
*NOTE: Sanchez will guest on my
Lieberman Live
Radio show Saturday Night from 9-10 PM PT. To listen,
click here
.