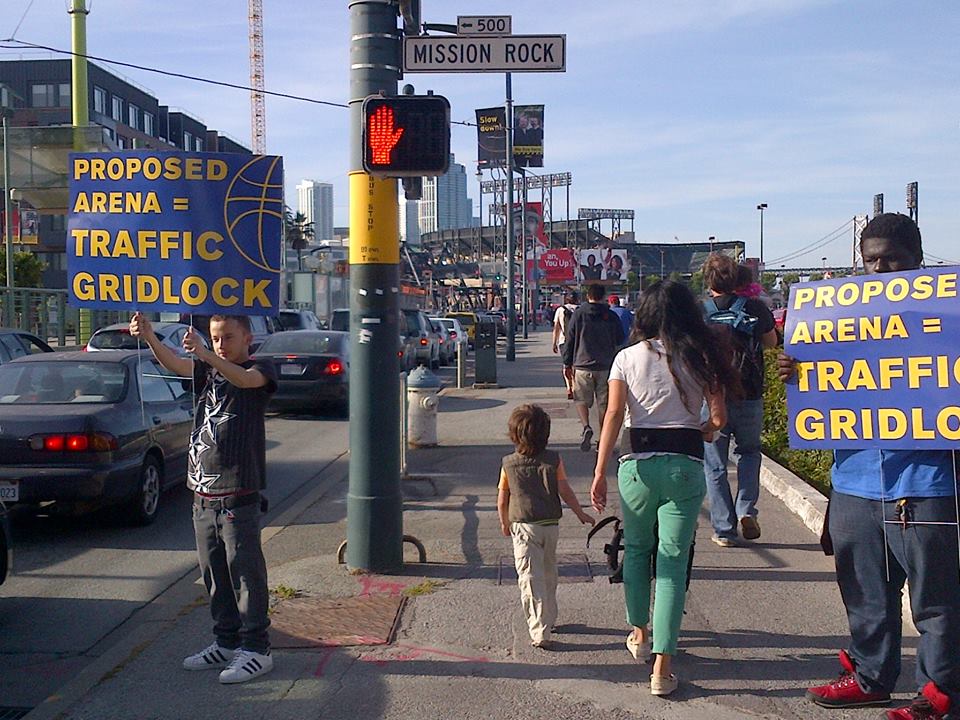 Ludicrous it may sound but ironically, the
Warriors
Game 7 loss to the
Cavs
at
Oracle Sunday Night
may have delayed its attempt to begin playing in
San Francisco.
The
Mission Bay Alliance
and many neighbors on the waterfront area certainly hope so and their wishes may come true.
The Warriors lost an epic battle
on
the court and have been steadily losing on the legal court too.
From the outset MBA --and its
several UCSF advocates argue
that
building an 18,000-seat arena
across the street from a hospital makes no sense. Indeed the presence of a building housing basketball, entertainment and other sports events will cause massive traffic jams and gridlock, chaos actually in a neighborhood already congested without such a facility. Combine that with AT&T Park
Giants
games and concerts and you have the source of such growing opposition.
The Warriors --through a mega-million PR blitz--have argued that the arena still has a green-light status and although
there's been many delays
, will open the facility on time, right before the 2019 season.
That target date is now doubtful. Even the most diehard arena advocates agree that the new building will open in 2020 at the earliest.
David Miller-Thomas
, a resident and venue for, hopes it's never. "
Look, I love sports; I love the Warriors. Grew up watching Rick Barry and Phil Smith, but building something massive like that across from a (UCSF) hospital is crazy, just crazy
."
The
transit planners agree
.
And although the
Bay Area media coverage
of
MBA's legal and direct challenges
have been tepid at best, the momentum has clearly changed and it appears the neighbors;
MBA
and
Transit officials
; plus community activists, have stormed ahead with their challenges.
The Warriors, it seemed, had been winning the PR battle across the bay --with assists from their 2016 Championship Run, a run that has now ended, quite disappointingly, and with it, the momentum of a SF locale by 2019.
That date appears to be a goner now --we'll be watching.