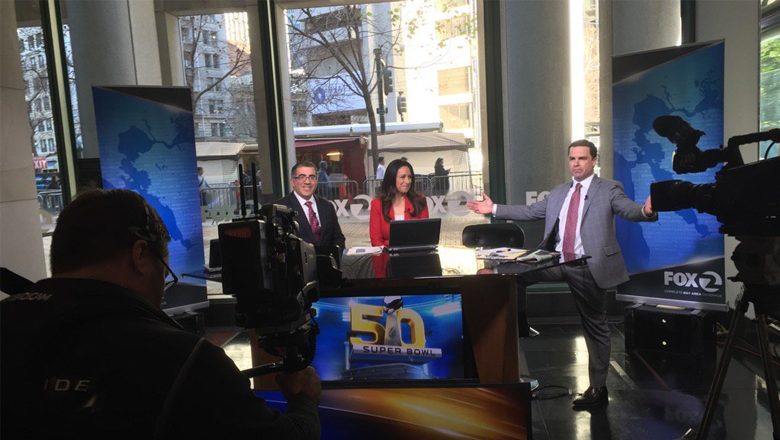 YOU WANT LOCAL SUPERBOWL SCENESETTER EXCESS PERSONIFIED
?
How about king of the local
fucked-up award for supreme idiocy
and
stOOPID
?
KTVU
gets the award, a clear winner out of the clubhouse.
Maybe KTVU wants to show off its splashy news set on the Embarcadero in all the Super Bowl City hubbub --OK, fine, but what dodo made the call to LEAD the noon newscast on Tuesday with a story that was clearly the MAJOR story of the morning? Whoever made that call should BE FIRED immediately.
From a 415 Media source at 2 Jack London Square that was at the scene of the gobbled mess:

"The Big J Journalists are disgusted with Fox management over leading with Superbowl fluff stories at noon today (Tuesday) and then to follow with CHP officer stabbed in SF; Fox is not a good source for news." (Duh!)
Indeed it's all strictly entertainment at 2 with producers and writers ashamed of the brand and product and the viewers should be alarmed if they aren't already.
But at KTVU/(Fox2), producers are afraid of management and when they do as they're told and the heat from higher level of management questions the call? Shit rolls down hill.
From the source: Inanity rules the day.
"The viewers rang the phones off the hook (Tuesday) at noon,
basically saying WTF is up with Fox 2?! Bye, bye they're tuning into KRON 4. Look at the ratings!

For crying out loud, the Superbowl is on the other channel. Have you seen Julie Haener and Frank in those promos? Game face on with black out under the eyes?
Puppets for a football game that is not even on KTVU FOX 2. Journalists should not be made to be some kind of dysfunctional personality."
Not the case at silly
Fox2
.
*Follow me on
Twitter