THE SUMMER OF '76
; Growing up in the
Bay Area
a ripe, wide-eyed 14 year-old listening to
KFRC
; AM Radio with personalities galore;
Dr. Don Rose
in the morning drive;
6-10 AM
. It was mandatory listening and appointment radio. Who could forget, "
Sacra-tomato
!" and …"
San
-
RAQUEL
!" --to this day, there is
NO ONE
, no one, who can even come close to
Donald B. Rose
(real name,
Donald Rosenberg
)
Dr. Don was
corny funny
. He had great timing and great corny jokes, an AM staple. He was unique; he was original; he was hysterical. It
wasn't
an acquired taste because everyone loved the Doctor. In this case, sound drops worked because Rose played off them and developed a distinct cohesion between listener and host. It was, like I said, corny funny.
But insatiably original
.
It's a good thing I was too young to drive back then because I may have driven off the road laughing my ass off. Rose had that aura with me and everyone else. It was a constant.
Dr. Don Rose
I remember something distinct back in the time. Rose was broadcasting from his home in
Danville
; actually from his bed. He was battling issues with his leg. He was so important to KFRC and listeners loved the Doctor so much that KFRC built a makeshift studio in his bedroom that allowed him to broadcast his show; try doing that today; would never happen; maybe for a
Howard Stern
but nobody else. It spoke volumes to the popularity and power that was one Dr. Don Rose.
I thought he would live forever but he battled several health issues and hard to believe
Rose passed away
over a decade ago.
How
BIG
was Dr. Don? He was one of the most highly-paid DJs in the country making over $400,000. That's big today but even bigger back in the 1970's. Only "
Aku
" (
Hal Lewis
) earned in the vicinity what Rose was making.
KFRC, like the old KGO, was a gigantic part of the Bay Area culture scene. It was the pop music equivalent of the old
KGO
; more than just a radio station and purveyor of bubblegum music, 70's hits--KFRC had a distinct line-up of individual personalities and was constantly on the social Bay Area radar, particularly music and teen culture. In association with
Bill Graham
, KFRC produced many "
Days on the Green
" at the
Oakland
Coliseum Stadium; its contests gave away tickets to lucky listeners trying to score freebies to see the
Grateful Dead
and
Beach Boys
(what a combo, eh?)
Friday nights in Summer; listening to
Bill Lee
on KFRC. Don't forget, "
Marvelous" Mark McKay
and the always hilarious,
Bobby Ocean
. Your "
Duke", Dave Sholin
, was too good to be true. A funny, thought-provoking AM DJ with a gigantic personality and vibe to boot. Sholin would later in life be an editor of the influential industry newsletter, "
Gavin Report
."
They were all great
.
And as crazy as this sounds, the whole 70's/KFRC experience defined an era in Bay Area pop culture. It was distinct and brilliant. Cozy and authentic. It was emblematic of the times and chicken soup for those of us wanting an escape away from some
not so cool things taking place
in the 1970's miles from the music and culture scene.
We needed it.
I needed it
. And I loved it too.
It's a special part of Bay Area radio history that made for entertaining, nostalgic days and nights. It broke up boredom and created magical moments. Those of you that were fans of that era and like myself had an affinity for KFRC can relate to my enthusiasm.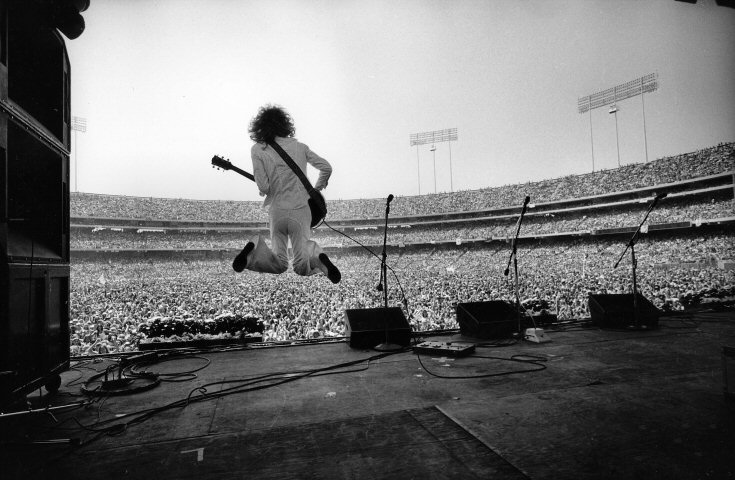 Peter Frampton at a "Day on the Green" at Oakland Coliseum, 1976
It's an enthusiasm that is lacking today in the vanilla mainstream abyss known as
millennial culture
, whatever that is.
*
At 415 Media, I am passionate about vintage radio and TV and will occasionally venture back into a time when the appreciation of the electronic media meant something.
If you like coming here and enjoy reading about current and past TV/Radio culture, then please CONTRIBUTE to this independent, edgy (sometimes) media blog that relies solely on reader contributions and donations; to donate, go to the "donate" button on the right side of the blog --just click on the "Pay Pal" button and make your contribution. It takes only a minute and will help keep 415 Media sustainable and at your service, 24/7.
#This column is dedicated to the life and memory of my mom, Anne Landau: 1922-2018.