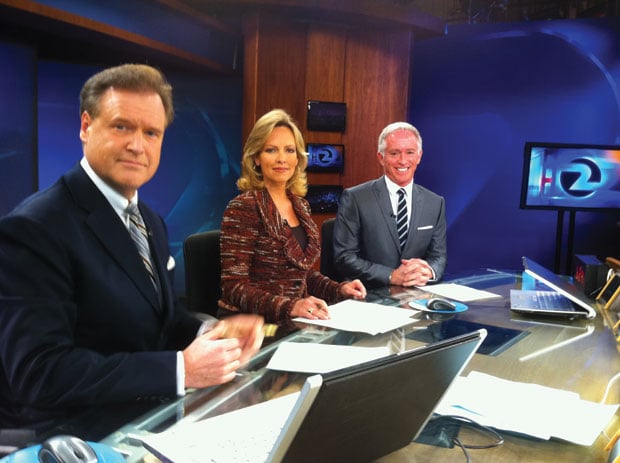 Frank Somerville, (left) Julie Haener and Mark Ibanez
PICTURES CAN BE MISLEADING
: Get a load of this. You see a
KTVU
anchor team that is smiling (mostly) but two of the three pictured have forced smiles; there's that "we-look-happy, but we're not." It's pretty evident if you closely observe.
I've mentioned several times about how at KTVU several staffers have told me "
it's not fun coming to work anymore
." How so? Because in spite of a great May Sweeps and overall leading #1 news station in the Bay Area,
Channel 2
is troubled. Its staff, notably cameramen, producers and photographers are working with a Fox management that has effectively built a wall between the big people and little people. If you can visualize a
David and Goliath
think of that metaphor at KTVU --the wall that exists is
HUGE
.
Damn right nobody is having fun; it's not just the inner sanctum of cameras and zombie-like higher-ups who pride themselves on having created a fear factor in the newsroom. It's more than that because that's the good news. The bad news is that a large segment of the on-air anchors have major issues.
Frank Somerville
is a solid news anchor but lacks human warmth. The warm and fuzzy Frank who seems sincere and genuine is not so warm and fuzzy off-screen;
Julie Haener
is also a more-than-capable anchor but is considered a lightweight among her peers. She can read the teleprompter but have you ever seen her out in the field? Sports anchor,
Mark Ibanez
, a four-decade pro, is a KTVU staple and just signed his latest contract extension but after such a monumental event, has taken to become cold and stand-offish; almost brute and angry according to close friends, one of which was recently stung by Ibanez' "screw you" 'tude. To Ibanez' credit, he hasn't taken his attitude to the air and remains a pleasant personality even if that personality is a tad waning and dispirited.
Larry Beil
*One of the biggest dilemmas I have writing this is trying to maintain its edge and honest commentary about Bay Area media without interference from my own troubled life which can be hard and difficult and most troublesome. It's hard because commenting about other people's foibles while you yourself are having a tough time can be awkward and uncomfortable but there's a big difference. I try to keep it about how such person is on the air and avoid personal attacks but guess what? It's all
personal
when you rip someone. I have said many, many times I think
Larry Beil
is a pretty good anchor but his off-air treatment of underlings needs to be called out; there's no license allowed to be a jerk and Beil is a "vile" jerk when he abuses his power and picks on people. I would hope by getting the word out that Beil has abated his boorishness and treated his underlings right but until I hear otherwise I'm not holding my breath.
*
NO, this is not the place to come to read about press release content. This is site dedicated to writing honestly and possibly unpopular opinion that seeks to provide a forum that is devoid of lovey-dovey prose. I try to be consistent. I play no favorites even though there are people here in this market that I really like; maybe at one point didn't like so much and they changed on me; or the opposite: people that I liked quite a bit that became disjointed and lost their on-air magic. Again, I have to point out that it is difficult to write this blog without pissing off someone; but see, that's the purpose of 415 Media: to write HONEST, straight-forward, intense (sometimes) edgy, (sometimes) up-front analysis without the slightest concern for acceptance --hey look, I'm human and it's not in my nature to try to hurt someone but I try to keep it real. I think I'm pretty credible for the most part or at least try to be
.
*
MANY, MANY, MANY of you have both subscribed and donated money to my 415 MEDIA for which I'm profoundly grateful. Why then do I have to ask you (and others) to contribute? Because I still believe many thousands of you appreciate this site for its honesty and opinion; its scoops; it's willingness not to buy into spin and take the company line and write complete BS which is abundantly available if you choose to want to read SPIN; that's not my ballgame and I'll continue to work hard and provide you the REAL McCoy that you won't get anywhere else but again, sorry, I Need Your Help.
TAKE THE TIME AND
MAKE A DONATION TO 415 MEDIA NOW
(Link to
Pay Pal
)
I will personally e-mail and thank you.
I have thousands of readers and fans--it's all documented. But as many fans an readers I have and who love to read my take on Bay Area media, I simply do not have the resources available to do my job without benefit of your contribution(s) It's simply impossible.
My expenses are numerous and time-consuming: cell-phone bills; multiple phone conversations; Internet expenses; contrary to popular thought, 415 Media is not a hobby it's my job now because I have personal reasons I am unable to go out again into the civilian world, I'll leave it at that. Therefore living expenses are only possible by contributions from you folks. That's the facts.
Here's something that I'd like to off my chest: I do not/will not/ ever write positive things about people so they can prop me up good or bad. I write based on conviction, personal taste, and straight-forward honesty. I have lost friends writing 415 Media which I kind of expected but hey, that's life. Considering the life issues I have faced recently and still face, that's par for the course.
*FINALLY, as long as you want me to continue to write, create, and produce 415 MEDIA (The Bay Area's only 24/7 Media Blog) I will be here at your beck and call. Of course I know the majority of you that come here look forward to The Truth, honest opinion, and commentary YOU WON'T GET ANYWHERE ELSE.
THANK YOU: PLEASE DONATE.