*So I hear there's rain this weekend which means the obligatory live shots from
Mill Valley
with the creek in the background overflowing and genius reporters asking schmucks: "
Hey, worried about flooding
?" Uh, never mind.
*Love the giddy weather people who are now praying the forecasts hold up so they can have their 10 spots in the first twenty minutes.
*
Bill Martin
will utter "
storm door
" at least 16,000 times. With
WEATHER AUTHORITY
!
*Waiting for the over/under on live shots from that crappy apartment building on the cliff in
Pacifica
. Right now it's 30.
*How many times will the weather mavens say something to the effect: "
It's a good time to stay indoors
." Thanks for the advice, very caring of you. (Pass the barf bag)
*Good house bet Monday Morning on
KCBS
:
Susan Leigh Taylor
: "
You know, on my way into the city, I saw rain on my windshield."
*
I have a feeling
Roberta Gonzales
is going to be downright delirious --might want to alert
Paul Deanno
for overtime duty at
PIX
.
*When did
Stan Bunger
turn into a weatherman? Stan talks about the weather about as many times as
Brian Murphy
of
KNBR
says, "
Yeah, yeah, yeah
!"
* The
Chronicle
's
Ben Fong Torres
is gearing up for a really wet weekend: About to write his 27,645th piece on the
Bay Area Radio Hall of Fame
.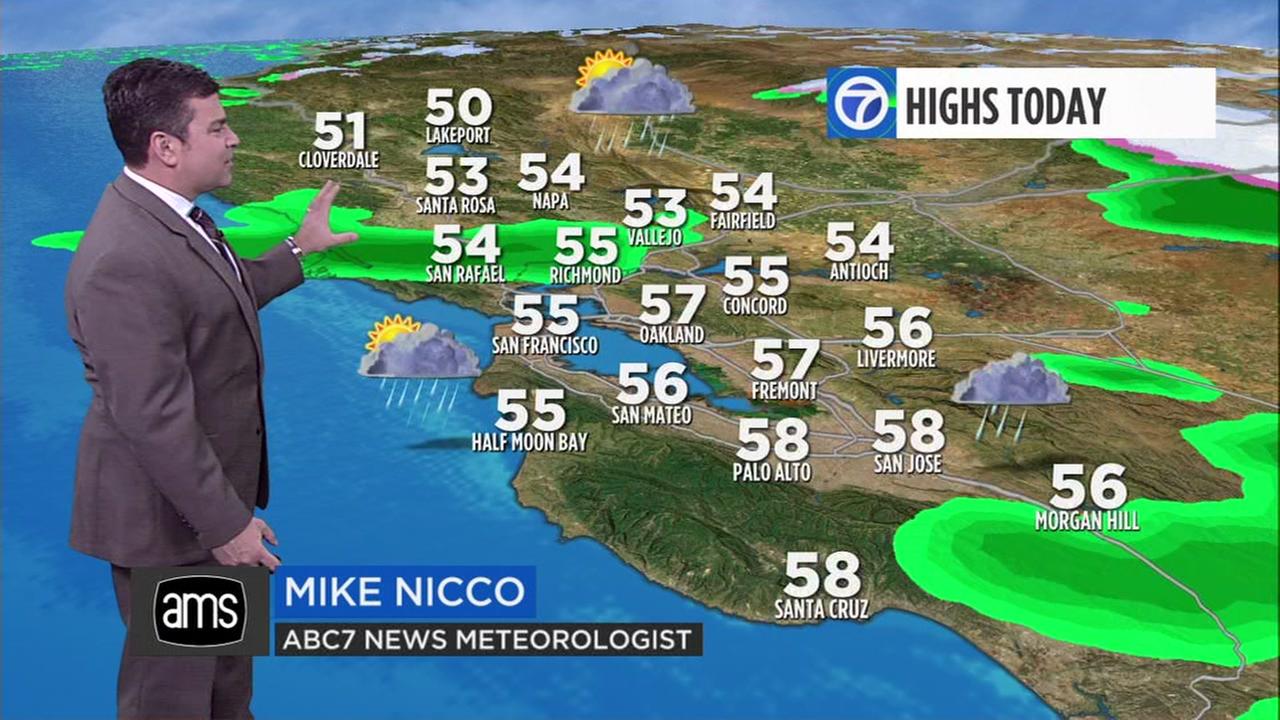 *Storm Upside:
ABC7
's
Mike Nicco
can try, for the 7000th time, to correctly pronounce "
mete-or-rologist
" and not "
meter-ologist
." Sorry, Mikey, I know you hate me mentioning this all the time but for heaven's sake, do the right thing. You're in
SF
, not
Akron.
*
I've got your live Doppler right here.
*"
Atmospheric River
": Sounds like a
Philip Roth
novel.
*That last line was for the
KQED
people.
*If
Pete Giddings
were around this weekend there'd be a virtual orgasm in the weather office at
900 Front
Street.
*I miss Pete skiing down
Heavenly Valley
and the
KGO
cameras filming it.
*Speaking of Giddings, I remember the line from media critic,
Bill Mann
. Commenting on Pete's little kids fishing program, Mann said he heard Pete once scold a kid: "
You'll NEVER fish in this town again
!" (Psst, it's a joke, Pete.)
*Add one more Giddings: for all his weather geek, I enjoyed and looked forward to Giddings forecasts --A. because he was usually right. B. he seemed genuine and passionate, and C. he could probably kick
Lloyd Lindsay Young's
ass.
*
Helooooooooooooooooooooo Bakersfield
!
*
KGO Radio
is planning "
massive
" weekend coverage of the big storm. Word is they're going to rerun "
The Best of Brian Copeland
" and 30 extra
Kim Komando
shows.
*
KRON
's really taking this rain deal big time: Management will only run patio furniture ad once every 10 minutes.
*Live shot updates from the assignment desk: Uh,
Mill Valley
,
Russian River
(reporter: "
Damn, this river be flooding!)
Ocean Beach
(Reporter doing MOS with tourist from
Sweden
: "We
get a lot of this so I don't know what the problem is
." Reporter: "
Uh, ok, back to you
.") Pacifica: Reporter at pier interviewing local schmuck who decides it would be a great day to go fishing: "I
didn't think it would be this bad
." This is the kind of guy who will never be on
Jeopardy
.
*Time to dust off the "
We have TEAM coverage
" which was kidnapped five years ago by the rodents who were stuck in the old KRON building at
1001 Van Ness.
*Ronn Owens
is preparing for the storm in a spectacular manner: on Monday,
Ronnnnnnn
will pique
Spencer Christian
with this diddy: "
So, how does this rain really help us
?" Upside: Ronn won't wear his short-sleeve
Tommy Bahama
, part of the 50,000 short sleeves Ronn has in his collection.
Memo to KTVU: More
Rosemary Orozco
, less Billy Martin: WITH
AUTHORITY
!
*At about 12: 50 PM Sunday on the 40,000,
KCBS traffic report
, anchor will proclaim: "
The National Weather Service has issued a small craft warning
..." Memo to Coast Guard: anyone in a boat off the
Golden Gate
, Sunday deport to
Modesto
, immediately.
*Waiting too for some yahoo to say "
We still have a drought
." Of course said person was saying this perched under the igloo at
Baker Beach
.
*Another
415 Media
irritant: the anchors on TV and Radio who use the word, "
system
", like "the next system is coming in Tuesday." Hey, it's a damn storm, screw your systems!
*
BREAKING NEWS
: Roberta Gonzales will be extra, extra, chirpy Monday on the 7: 20 AM weather exchange with noted meteorologist, Stan Bunger, igniting a certifiable high pressure system in the CBS building at 855 Battery. Officials have been alerted in all local city precincts.
*
SUPPORT 415 MEDA! Become a PAID SUBSCRIBER now by going over to the Pay Pal icon on the right and SUBSCRIBE. It's easy and it's inexpensive: $25 --one year; $40 two years; I will PERSONALLY call you and/or e-mail you for your contribution and will take you out for *lunch to celebrate. ALL contributions are 100% confidential and you don't have to have a Pay Pal account to contribute.
It's that simple.