A few things to be thankful for; some notes and a few observations;
Happy Thanksgiving
.
*Thanks to the people working today/tonight on the TV/Radio News desk; the writers, producers, photographers, anchors and reporters too; sure, they're not lifting anything (save for the MMJ's) but working on Thanksgiving can be a bummer, ask family.
*I know I'm anal on this subject but I wish the assignment editors showed a bit more creativity on this day without resorting to the usual standard faire of scene setters like
Glide Memorial
and the homeless people eating (still cool but maybe a new angle?); the routine set-up shots of the morons camped outside
Best Buy
to buy 2 buck TV's--isn't
Black Friday
so
yesterday
? I just read consumers are totally hip about this yearly fraud...You know, watch the
BBC
--there is actual
news
today, God forbid we have to turn to those outlets to get the info.
*A reliable source close to
Greg Papa
told me Papa's lengthy absence from
95.7 The Game
was due to a "
family issue
."
*The reason why
Marty Lurie
gets a pass from me is that I genuinely like his show, which given my taste, would normally indicate a mass ripping.
No.
Marty is summer baseball-on-the-radio nirvana; a marvelous, funny, poignant addition to the afternoon backyard BBQ; a pleasant backdrop to beer-in-the-garage heatwave relief when the
Giants
play a mundane game in June.
Marty makes me laugh too; has a sort of
Joe Franklin
in him. And he's one helluva interviewer too.

Marty Lurie loves baseball
And truthfully, Marty Lurie absolutely
LOVES
what he's doing which might sound
well, duh
! until you listen to some other people who forget they're getting paid to watch baseball games.
QUICK HITS
...
*I've become a fan of
KCBS
anchor/reporter,
Megan Goldsby
, who is getting more airtime, finally.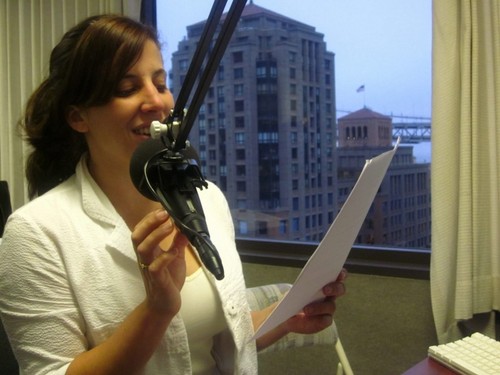 Megan Goldsby
I've always liked the gritty Goldsby from her recent days at LA sister
CBS
station,
KNX
. I'm delighted she came back to SF and is now a broadcast staple on "
All News 740
." Hard work on and off the mic pays off.
*Much as I can't stand
KTVU
anchor,
Ross Palombo
, when he does away with the "
Look at Me
" persona and reads the teleprompter right, he's actually a very decent anchor.
See, Ross, you don't need shtick to perform; the viewers like it straight and simple.

Ross Palombo
Stop the presses: I just complimented Ross Palombo.
Arr!
*If I keep up this love-fest I'm going to turn away the torsos who look forward to non-stop ripping.
Sorry, a brief respite until I hear another
Kars-4-Kids
jingle.
*Again, Happy Thanksgiving to all, remember to eat and drink well, safely --don't bother talking politics, it'll give you indigestion --you don't need that.
*YOU CAN DO
this: You could
donate
to my
415 Media
site so I can keep it independent and 24/7 info you've come to look forward too and appreciate. Just
click the Pay Pal icon on the right side of the blog
and you can make a secure and confidential contribution immediately.