Were it from the heart and soul it would be sincere but it isn't. It's more smug and sanctimony run amok from an anchor who has gone overboard in his social media ramblings.
Frank Somerville's daily BS postings on Facebook
are an embarrassment.
There's no sincerity here; no real passion whatsoever; no genuine feelings; all THIS really comes down to Somerville capitulating to a missive by
FOXIFIED
KTVU
management hellbent on making sure its lead primetime anchor initiate phony, daily musings to, I guess, form somewhat of a human bond to viewers. It's so stupendously funny in a bizarre sort of way; Frank's sycophants really believe he's into this blarney but all of it is total BS. It's not just me who thinks this is bullcrap. Ask others in the business. Don't stop there, ask some of Frank's colleagues at KTVU (wait, KTVU staffers can't talk anymore; even off the record, thanks to Fox and its control/fear management police) but if you ask around you get industry people who confirm that this social media infatuation with Frank is simply marketing; Frank needs to feed the family you know. Nevertheless, it's embarrassing.
*Frequent and fair question of late from readers and others: "
Rich, why are you concentrating so much on KTVU
?" Because unlike some of the veteran phonies who are at the station, I have always been sensitive about legacy stations and call letters; radio/TV, print/digital, whatever; it ticks me off royally that such professional criminals can come in and destroy these local media institutions that were a real part of the community. I'm not going to sit back and allow these assholes to come in and tear apart what were once treasured assets. Not as long as I get e-mail after e-mail from you folks who express outrage over the complete lack of respect from these corporate jerks. They may be able to coerce staff to engage in foolish stunts like talking like a pirate but they're not fooling me.
*"
It's a different business today, Rich
." Yeah, really? Thanks for clearing that up, I'm just shocked.
*You know what I think? I think by and large, Bay Area media consumers are still, for the most part, smart as hell. I think they know and see when someone, some organization, is trying to mess with them. They are wise. They know bullshit when they are exposed to it. So when these corporate jerks come into the market and destroy and KILL such vaunted,
trusted
, companies, then they will act. They are frustrated by the collective junk that has begun filling the screens and polluting the airwaves on radio and TV. That's why they come here; too bad some of the veteran players here would get up off their ass and expose the bullshit the consumers see and hear. No balls.
*It would be big news in other times when
KRON
hired a new primetime anchor but not today; not today when nobody really gives a shit about new KRON hires because as long as the
SUPREME ASSHOLE
that runs the operation; the
banal jerkoff
who is an
alleged
News Director
who shouts and belittles his staff, and is allowed to create panic and fear, I'm not going to dignify his presence--
he's an asshole
. I'll be kind.

Tracey Watkowski-Silva, far right, the "journalism" queen ND at KGO-TV
*
Tracey Watkowski-Silva
, the
News Director
of
KGO-TV
(
ABC7
) a few months back asked a new part-time reporter to come into her office. She told the reporter about basic journalism tenets and "
how I expect you to practice a TV Journalism model here because we at ABC7 will have nothing else
." This is the same Tracey Watkowski who hired the two morning idiots who dance on and off the air; who act like child imbeciles and have
EMBARRASSED KGO
;
EMBARRASSED fellow anchors, reporters, weather and sports anchors, producers, news writers and the like
; Tracey and her boss,
Billy Burton
, the Pillsbury dough boy who took part in the hire of these doofuses because they
COULD TWEET
and act like BUFOONS! Yeah Tracey, get that reporter back in your office and tell him he should practice journalism the way your morning IDIOTS practice; that'll earn him cachet for his future; maybe ushering at Disneyland, perhaps?
*"
Tracey, here's some good shit you should know if you don't know already and apparently you don't: you cannot believe the amount of shit that is going on as a result of Donnie and Marie; there's a revolt taking place, Trace. People you sit and interact with daily? Damn, they are pissed off. Seriously Trace, when you're roaming the newsroom as you do a lot, take a pulse of the staff. You love to have meetings, Trace, so at lunch, ask around about the mood of the place; you're good at that; and when you're done with that, think out loud. Think what Keeshan would say. You know Kevin better than me but I'm betting you the tuna melt at Grumpy's that Kevin would say you really FUCKED up; you and Burton over the Aquai/Zouves hires; you could have hired any number of fucking, young anchors from, say, Boise, who would have provided you that social media crap you wanted; instead you hired these fucking idiots that not only EMBARRASS the staff and company; you did worse, Trace; the RATINGS are TERRIBLE!; now Trace, that takes a whole lot of talent and ingenuity --maybe you outta celebrate; maybe you should take Reggie and his boyfriend to a Sharks game!"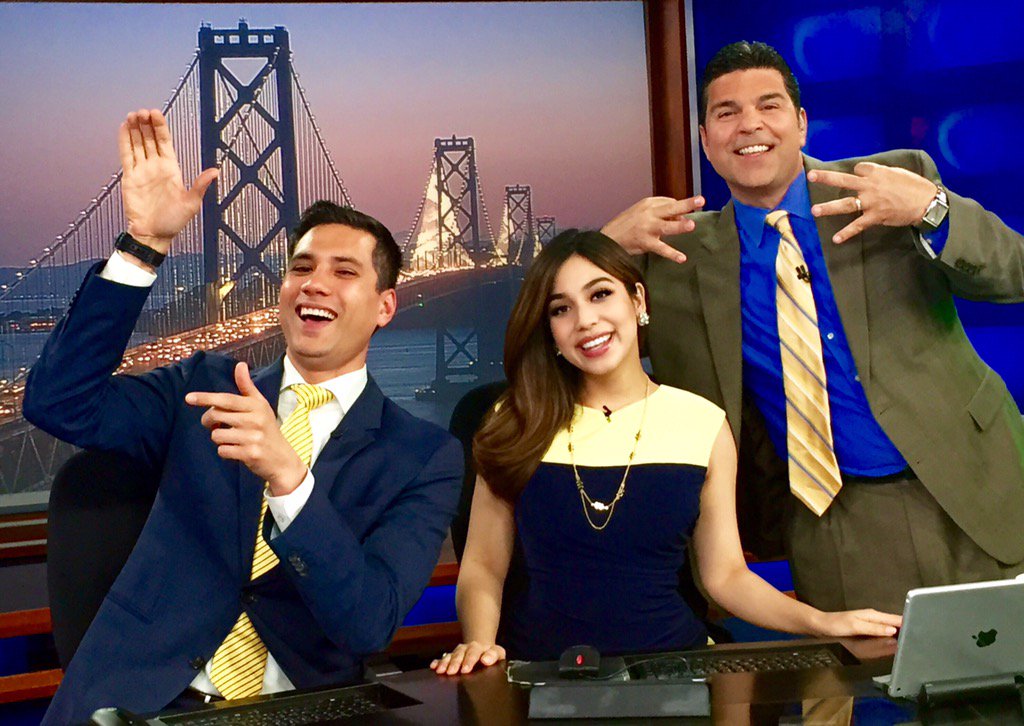 Human morning waste at KGO-TV