SATURDAY PM
Media hangouts in the city --there were many favorites; working at
K101
after a day baseball game, I'd bring in some fresh pies from
North Beach Pizza.
I knew the late, great
Chris Edwards
(sales extraordinaire and Sunday Night Oldies DJ loved the pizza and went crazy galore for a cheeseburger across the street at
Clown Alley
. I agree. I know everyone had all access to a grill but only Clown Alley comrades knew the only way to make a perfect hamburger.
*If there was (and still is) the
BEST
Chinese food
joint in town (with bar service no less) it was
Hunan
on
Battery Sansome Street
. Across the street from
KPIX
, it was prime eating ground (again, still is) for PIXers craving decent Chinese food and a place to get warm and fuzzy (if you know what I mean).
Wayne Walker
was tight with all the staff and supposedly had his own secret ordering code. Not all of it consisted of food.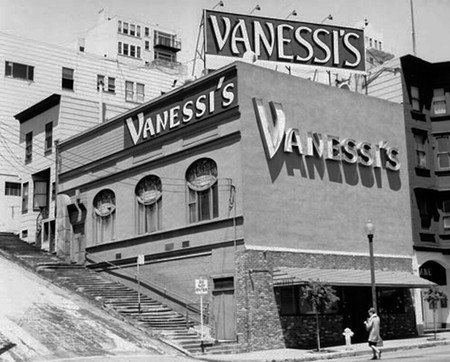 *Best Italian food in the city:
Vanessi's
--an institution in North Beach and great, cheap, Italian food. Enough said.