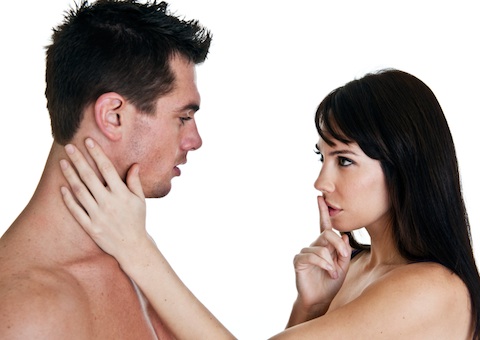 AFFAIR
or
RELATIONSHIP
?
*
Juliette Goodrich
:
relationship
. Old-school. Diane Sawyer tendencies. Talks a little too much but room for advance.
*
Allie Rasmus
: Affair. Affectionate, compassionate, just enough to mix it up but too young for further reckoning. Probably cool for a dinner at Boulevard --I'll buy the first round of martinis.
*
Pam Cook
: relationship. The quiet studious type always longs for something more than just a quick horse-riding trip. She's probably quite delightful at the museum. A keeper.
*
Brittney Shipp
: relationship. Oh, please. Long, long termer. And it really has nothing to do with the beautiful body. She's smart, educated, feisty, a long-term commitment? Hell, I'll put a ring on it.
*
Melanie Woodrow
: affair. She's just catty enough for a quick little fix. A noontime lunch at Tadich followed by some early-evening wine at Le Central. Then things get interesting. I tell her, quite bold: "Just don't do any piece on me." She nods. We're ready to rumble.
*
Cheryl Hurd
: relationship. She's edgy and cultured, a good start. And smart as a whip too. We'd rummage through lots of museums and art exhibits before she suddenly stopped, whispered in my ear, "
We have got to stop doing this--it's too delicious
." I back down and give her my NY giggle,
BOOM GOES THE DYNAMITE
!
*
Lisa Argen
: relationship. She's much too ambitious and respected for a mere affair. Affectionately, I'd compliment her on her new outfits and hair (and other things) and tell her it's time we went full throttle and move to Atlanta. Call the Rabbi.
*
Janelle Wang
: affair. Not because it's cheap or quickie-like, she's got a lot on her plate and I can help her out. Because that's the way I am. And she respects me for that.
*
Darya Folsom
: affair. Bad-da-Bing, what else were you expecting? Poetry trips and Marin art shows? Hell, keep on dreaming.
*
Robin Winston
: relationship: I believe the young lass needs a caring man with gravitas, patience and love. Yearning to grow, she's in for the field trip but understands that it will take much time to develop. She understands there's road blocks but I woo her with my magic and constant singing of "Piano in the dark." She immediately is captivated and although I'm not Christian, (which she prefers), I tell that "Hey, you know, "
Jesus was Jewish!"
Bingo!
*
Tara Moriarty
: affair. Hot, steamy and quick. Afterwards, sandwiches at Tommy's Joynt, (I buy) and I tell her a story about my third wife, Becky Easy, who I met at the Emeryville Dennys. She's ready to leave. Me too.
*
Rosemary Orozco
: affair. We begin our first meeting at the Fisherman's Wharf Holiday Inn. A bootle of '67 Charles Krug cab gets the night rolling but she wants more. I tell her I'm tight with
Frank Somerville
and immediately captivated, she gives me that pouty look! You know the rest of the story.
*
Anny Hong
: relationship. A bit testy but worthy of long-term matrimony and harmony, A sort of Asian, Ebony and Ivory girl. I woo her with the fact I'm a tremendous fan of Korean food and that I know the origin of the DMZ . She's slightly impressed. I also tell her that
Kim Jong-Un
is really a decent guy, just that the media doesn't report "
good news
." She's suspicious but it's a great ice-breaker and we live happily ever after.