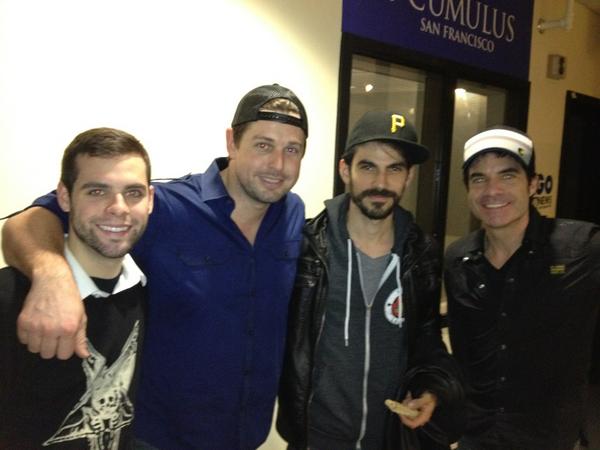 WE INTERUPT BREAKING NEWS AROUND THE WORLD
; The Supreme Court has ruled, 5-4, that Same-Sex Marriage is legal in all 50 states; NY Law Enforcement is on the hunt for the last remaining prison escapee --the other fugitive was cornered and shot dead; Terrorists affiliated with ISIS have struck a French Power Plant; A gunman in Tunisia has killed 38; --in spite of these developments,
KGO Radio
, under the auspices of
Cumulus Media
, bring to you this Saturday Night, "
Cooking with Ryan Scott
."
1.
Ryan tells you how to get giddy with arugula --complete with guest host, Cheswick Goudamouth
2.
Ryan and Secret Asian Man play footsie with a pot of steaming Chinese broccoli --DUDE!
3.
Ryan describes in detail to the vast KGO audience how he once became forklempt with Michal Bauer in the back of Liverpool Lulls.
4.
Scott tells a story in which he and Ronn Owens seduce the manicurist on Union Street for a free pedicure in exchange for Scott's homemade Ukraine borscht --with extra red cabbage!
5.
In a stunning display of culinary creativity, Ryan fondles a box of chocolate-covered strawberries simultaneously singing David Bowie's China Girl with Secret Asian Man!
6.
Ryan invites John Dickey into the studio to make homemade TOAST!
7.
Pissed off over word that Secret Asian Man is in studio, Mayor Ed Lee orders his tactical civilian squad down to 755 Battery to perform citizen arrest; undeterred, Scott rounds up 55 pounds of Kung-Pao Chicken and a case of PBR to Mr. Lee to soften blow. It works.
8.
In outward rage over various people telling him to get the hell out of the studio, Scott threatens the entire newsroom of an hour of Maureen Langan unscripted.
9.
To counteract move, Hangin with Langan chick infests studio with triple combo of Ronn Owens, Copie Copeland and Ronnnnnnn's latest gadget man, Iphone A Misto.
10.
Secret Asian Man informs Ryan that he's actually Caucasian Jason Middleton --KGO's New Tech, Business, and Chinese Food Editor.
WE NOW GET YOU BACK TO REGULARLY SCHEDULED PROGRAMMING