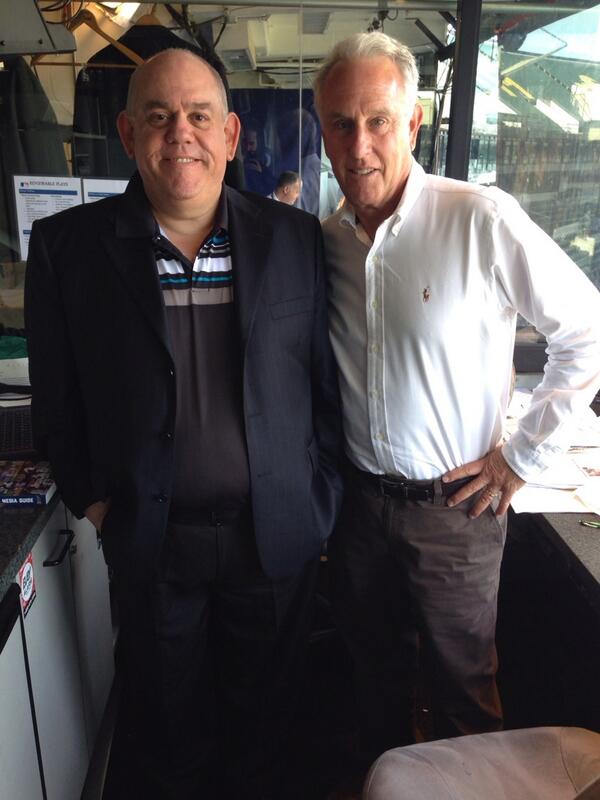 Friday night I went over the Coliseum and met with the great
Oakland A's
play-by-play broadcaster,
Ken Korach
.
We talked shop, we schmoozed --those of you that come here know of my fond appreciation of Korach and his partner,
Vince Cotroneo
, --probably one of the most talented and underrated broadcast crews in Major League Baseball.
The
A's
are my hometown team. Love the
Green and Gold
. I go back to the days of
Reggie Jackson, Gene Tenace, Campy Campaneris, Captain Sal Bando and Joe Rudi. Rickey Henderson
too.
A's and Raiders. Warriors too
. It's a
Tower of Power
of
Back to Oakland
Superstars, some Hall-of-Famers.
Let's not forget the greatest broadcaster ever; the guy that described the action from the Coliseum; the place that
Curt Gowdy
referred to as "
The House of Thrills
";
Bill King, Holy Toledo!
Korach has been with the A's for almost 20 years and recently
wrote a book about Bill King
. Finally got it and couldn't put it down. Riveting stuff. Poignant, happy, what a ton of memories and then some.
I knew Korach could do great play-by-play. I didn't know he was a great writer. This is a terrific book, a must read not only for those of you that appreciated Bill King, but also like good stories.
There's a ton of stories in "
Holy Toledo--Lessions from Bill King: Renaissance Man of The Mic
"
Read the book.
The Foreword was written by
Jon Miller
.
It's one of those books that brings back great memories from the beginning of King's career; I began listening to Bill in the early 70's when he was doing the Raiders. Of course he would soon broadcast the A's, Raiders
and
Warriors. A three-sport broadcast superstar.
In the book, Korach describes his first introduction to Bill King--as a kid growing up in West LA:
It was a magical experience, having a game four hundred miles away come out of the little box next to my bed, and Bill King made me feel like I was sitting courtside with him.
The book is entertaining and perfect reading if you appreciate great broadcasters. Korach worked with King for 10 years and took over for Bill when he died in 2005. There's stories about that and more. Like I said it's nostalgic, it's funny and there's quite a bit of interesting things to read, some good inside dope too, hilarious and things even I didn't know about Bill King.
It's Summer. Reading time.
This is worth it.
*Follow me on
Twitter
*KenKoarch
*Bill King book