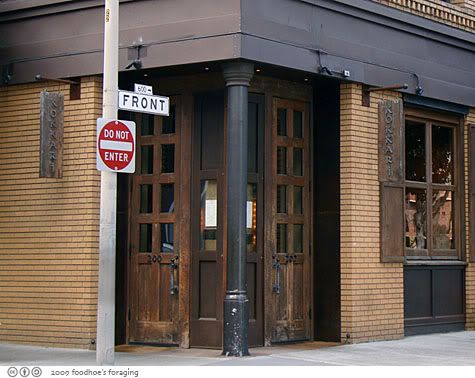 I prepare passionately whenever I'm near the Battery Media Gulch, an area near the Broadway-Front-Jackson-Battery corridor fronting the Embarcadero.
KPIX, KCBS, and KGO-TV
, along with many media production companies and radio stations are located in the area.
Late last week I popped in to
Kokkari
on
Front and Jackson
. This is where some of SF's most famous media personalities like to mix it up and talk turkey. Kokkari is a Mediterranean restaurant with a good vibe. A great place to have a martini after office hours and in a lot of cases, see beautiful people in black suits and ties and splendid dresses. I myself have hoisted a few here but it's always business and although I try to keep it that way, invariably someone has to always make it personal and there's goes business down the drain. Don't get me wrong, it's swell to be loved and admired especially when you considered there's a whole lot of people trying their best to take you down. I would have nothing of it.
I was to meet Gerta Thursday on a glorious spring evening. She's a media maven in the big bad city needing some tenderly advice. I cautioned her that I had no professional experience in that department although, being the man I am and living large and having experienced life's ups and downs, I could at least cleanse her inner, emotional wounds and get her out of the rough and back onto the proper mindset. She was there early, a good hour before our 7 PM ETA. As I wandered in, fresh from a photo shoot in the morning, I noticed the
Gallery Girls
from the
Getty
party almost immediately. Darcy, the prime lady in a stunning beige leather skirt with matching pumps gave me a big wet kiss on the way out! Damn!, what's that all about? Gerta wasn't exactly thrilled but what's a man to do. I took it in stride and carried on straight to the bar, all the while thinking and exhibiting a sort of male gusto the likes of which haven't been seen since
Harry Denton
hosted Gavin Newsom and
Imelda Marcos
way back then. Simply amazing.
The place, as usual, was packed. We found a spot at the end of the bar near the window. Gerta was already nursing her second glass of cab while I contemplated a dry sherry --I didn't want to get hammered because I knew Gerta was there to seek out my inner, loving depth. Gerta seemed anxious, like a damsel-in-distress needing her very personal Batman to help guide here through this temporary lack of love canal. She's big in town. A
mediesss
...as she loves to call herself, only tonight the subject was solemn --Gerta was experiencing a sort of midlife crisis. Her husband no longer gave her that twinkle in her eye. He was some big time broadcast heavyweight, a sort of Bay Area
Les Moonves
who was supposedly a real ladies man. Gerta wasn't impressed and howling with abject failure and rejection. She still loved him although she hated him too. Try to figure that out! In any event she texted me, frantically, to meet--it was spontaneous. Fortunately I was able to can a last minute bridal party in Hunters Point at Gacy's lounge and thus, meet Gerta. Finally.
Gerta entrusted me with a whole lot of gooey details that were real spooky. She was clearly unhappy and out of whack. I told her it might be best to decrease the alcohol and order some bread. She resisted my foodie thought and instead fired up Jimmy for another round. We began giggling and she began reacting lighter. I knew full well that this was the beginning of something special, at least in my case and had to quell it right away. It comes with the job. My gig is media and any hint of personal sexual impropriety would cause havoc in the Battery Gulch Social club. I did the right thing and told Gerta it was time to catch our cab and end the discussion later at her place.
After hailing down our cab, it was late in the evening and only a vintage
Charlie Pride
duet in the yellow car saved us all and provided a much-needed jolt of inspiration and levity. Gerta staggered up to her flat on Montgomery Street and I resisted her love potion and headed back to Oakland. It was the proper thing to do. I told her to get a good night's sleep and we could continue this airing-out Tuesday, coincidentally, tonight.
To be continued...