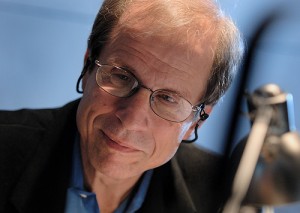 Michael Krasny
is celebrating his
20th anniversary
at
KQED
. Krasny hosts the morning show, "
Forum
", (
Monday-Friday, 9-11 AM
), which is an intellectual island on the mostly-dreck ocean of terrestrial radio. It's a program that is largely devoid of usual present-day broadcast drama. The only drama you hear on Krasny's Forum show is that of pithy novel authors and an occasional call from
Robert Redford
or
Philip Roth
.
Krasny is not only a broadcast giant locally; he teaches English and literature classes at
SF State
. In fact, before KQED, Krasny hosted a weeknight talk show on
KGO Radio
and it was there where I met him and he was my English professor at State. He started out there back in 1970. Wow, time does fly.
I always knew he had the intellectual and professional insight but at State I saw his comedic side. The Cleveland native is also a Jewish-humor advocate and can tell many hysterical jokes.
Trust me
.
Here's a grand huzzah to at least 20 more years of success to Michael Krasny.
**Follow me on
Twitter