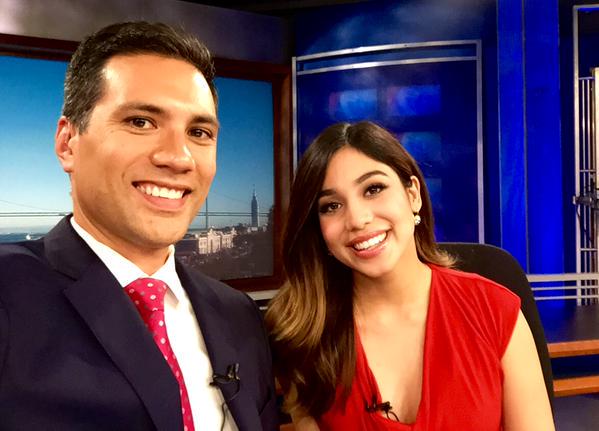 Reggie Aqui and Natasha Zouves
A
KGO-TV
spy informs me that the relationship between
Reggie Aqui
and
Natasha Zouves
(AKA:
Donnie and Marie
) is "chilly"; the gruesome twosome in the morning are having serious flare-ups but so far it's not bad enough that it's evident on-air. (They're not that stupid)
I'm hearing Zouves is annoyed (join the club, Natasha) and had finally had enough with Aqui's
over-the-top disposition on and off the air
.
Behind his golly-gee persona is a guy that has had frequent run-ins with staff. Reggie thinks he's the life of the party only anybody with half a brain is wise to him.
I detailed as much not so long ago
.
It's nice to know Zouves has finally smelled the coffee. Right now their frosty relationship hasn't reached "
can't work with him/her
" status but they're definitely at war with one another, you can take it to the bank.
I've warned you, Bay Area.
*That guy that's pissed off because he lost his girlfriend because he has no money after the DUI is pathetic enough--on a commercial that's played over and over and over, worse yet. Between Dinovite and Kars 4 Kids, AM radio is toxic to the ears.
Mike Krukow
*The frat boys slobbering over themselves in the morning on
KNBR
telling Countess Scott how "
terrific
" she was....enough to get the barf bag out and keep it available 24/7. What a bunch of pathetic yahoos.
*
Mike Krukow
on Saturday plugging
Giants-Mets
Sunday Night: "
Radio only
." Jeez, Mike the game was on
ESPN
. Even
Jon Miller
said so. Is Krukow so much in the KNBR bubble that he's afraid to say the game will "
be televised by ESPN; me and Jon Miller will be on the radio
?"
Grab some pine, meat
!
*Yeah,
Anne Makovec
is brainy but
she's fat
. And I'm positively svelte.
*The pain and anxiety for the folks up near Clear Lake is bad enough; the insensitivity on display by a few dumb newbie TV reporters is worse.
*
KRON
, if the camera is another few feet away from the anchors you will not be prosecuted. The up close shot doesn't help the look of you or the air talent but I've been saying that for months now, maybe
Stanley Roberts
should be called in.
*Meanwhile, KRON's "
10 PM News
" is "
the USA Today
" of local TV News; condensed packages followed by 50,000 weather updates. Whatever.
*
KGO-TV
: The
new set
debuts tonight. I'm going to hold a party at the
Emeryville Dennys
.
*It's not so much the
Maria Medina
thing; the morning show during the week
thingie
; the very beautiful but bumbling morning traffic reporter; the wayward anchors thing; it's just the feeling by most of
KPIX
's personnel that management doesn't have a clue what the hell they're doing--other than that, everything is fine.

Cecilia Vega
*Some women call me a misogynist because I have a knack for referring to some women here in TV as being "
beautiful
." Last I checked, TV is a
visual
medium. I watch. You watch too. We notice beautiful people. I don't see the crime. By the way,
Cecilia Vega
is beautiful and brainy too.
*Excuse me for sleeping:
2016 Olympics
.
*
415 Media is the Bay Area's #1-read Media blog. Keep it going by subscribing/donating and sustaining the independent blog that gives you the information and inside dope you won't get anywhere else. Click on the PayPal site on the right, it's that simple.